A Different Take on the Swag Bag
February 27, 2017
A super volunteer from the Interior used her creativity and resourcefulness to take the swag bag from ordinary to incredible!
Merle  began interviewing with the BC OSA Residential Care Project in November 2016. Aside from being Interior's 'Swag Bag Lady', Meryl is an International Organizational Consultant. Originally, Merle signed up to volunteer because she "had some time, and I think this project is important.  As a society we are responsible for our senior's care."
After signing up to volunteer, attending the training, and completing a few shifts, she found the bag insufficient for meeting both the germ-free protocols and her desire for efficiency. "It was the most detailed training I have ever had, but it had to be, due to the protocols when working with a vulnerable population. After the first few shifts I discovered I needed rubber gloves due to the cavi wipes.  They have chemicals in them, and after a few days my hands were adversely effected."   Merle set about figuring out an alternative so she could pack some gloves plus she wanted an organized efficient routine when she went into the care homes.  Therefore, as a life-long backpacker, she applied her bag customization skills to the swag bag.  With the addition of pockets to the back, she could keep her personal and survey items (rubber gloves, clip board, etc) in one pocket, and information in another, leaving the interior more sterile for the survey items and the front label visible.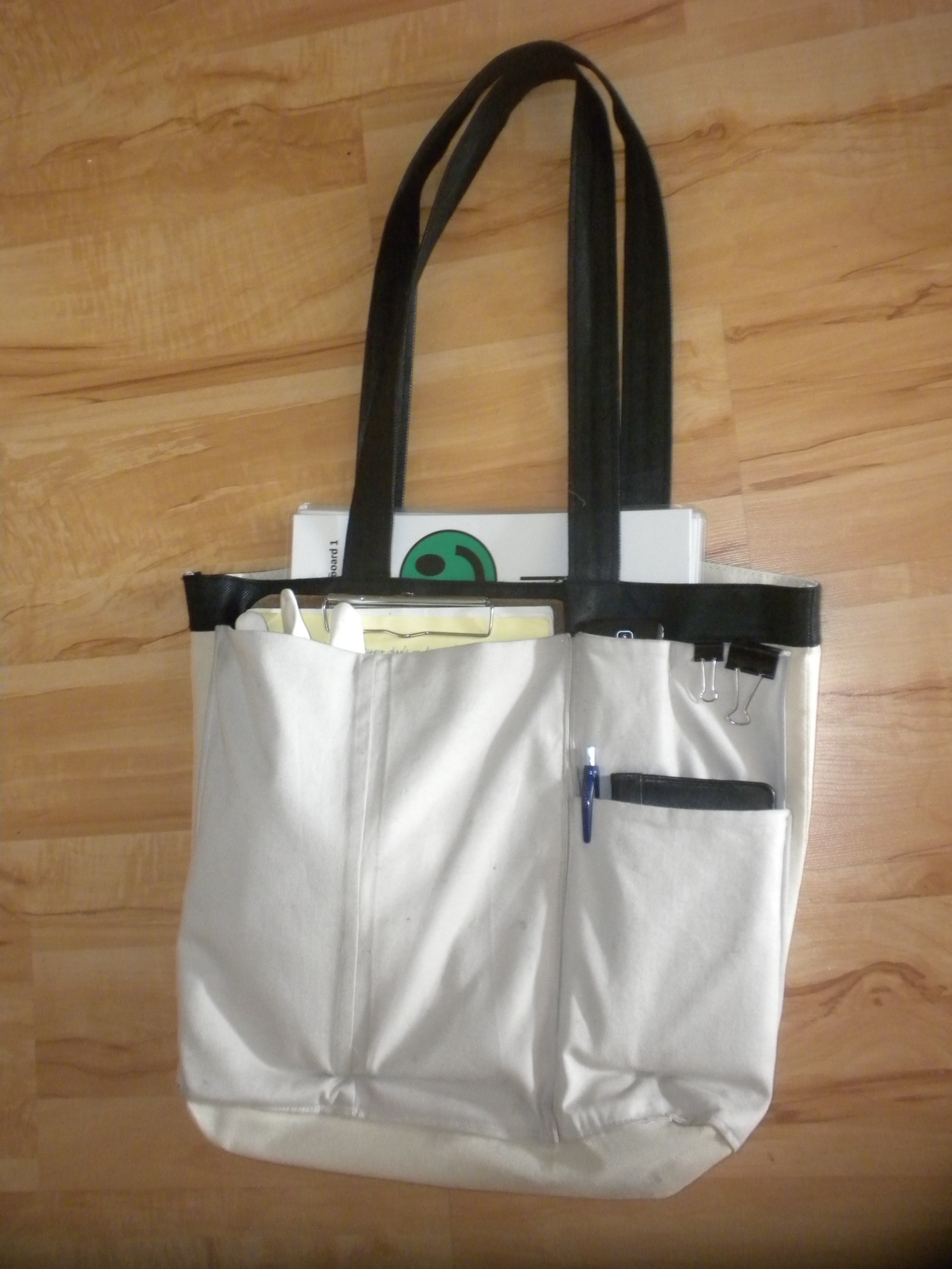 These alterations helped Merle immensely as she travelled to Princeton in November to survey all the residents in just a few days! Our 'Swag' Bag Lady has given over 120 hours and she has surveyed in Penticton, Summerland, Osoyoos and Princeton.  "I have met some wonderful seniors over 100 years old that were very much aware; very thoughtful.  But I guess only about 35% are able to complete the survey, and two thirds are not. I will probably not use the bag again – those shopping bags seem like rabbits; they keep multiplying!"